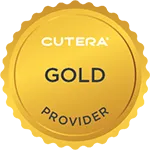 Aesthetics
truSculpt iD
What is truSculpt iD®? truSculpt iD allows you to personalize your
ideal body with a revolutionary non-surgical, body-sculpting treatment. Its comfortable, safe, and effective technology is clinically proven to permanently eliminate fat cells in stubborn areas around your abdomen and flanks.
Am I a candidate for truSculpt iD?
Because truSculpt iD is a customized and tailored treatment to meet individual needs, most adult men and women are a candidate.

Can truSculpt iD be used on all skin types?
Yes, this treatment can be done on all skin types and over tattoos.
How long does a treatment take?
Procedure time depends on the size and number of treatment areas. It typically takes 15 to 30 minutes to treat the abdomen and flanks.
How many treatments will be needed?
Multiple areas can be treated in as little as one 15-minute session. Additional treatments may be required to achieve the personalized results you desire.
What will the treatment feel like?
truSculpt iD procedures are typically described as feeling like a hot stone massage. During treatment, the temperature of your skin will rise but remain comfortable. It's effective, safe, and the results are even and consistent.
Is there really no downtime?
Post-procedure, the treatment area will be warm and flushed for less than one hour. While you may experience mild sensitivity to the touch for a few days, you'll be able to immediately return to normal activities and exercise.
When will I see results?
Results are visible after just one treatment, with maximum results seen after 12 weeks. Additional treatments may be required to achieve the personalized results you desire.
Please click here to view our Before & After Photos
Botox
What is Botox?
Botox is a protein, derived naturally, that helps to relax muscles that create wrinkles on the face. It is injected into the muscle by a trained healthcare provider.
How long does it last?
The effect of Botox lasts approximately 3 months.
What are the side effects?
Side effects are usually mild including redness at the injection site (briefly), swelling at the injection site (briefly), bleeding or bruising, infection (rare), facial droop (rare), and others listed on the consent form.
Is there any downtime?
Essentially no. The injections take less than 10 minutes. The effect takes approximately 2-5 days to start working and final complete in 10-14 days. Your doctor may ask you to come back in 2 weeks to examine the effects and make sure no touch up is necessary.
Pricing:
By the area: $11/ unit as of 1/1/2016 (examples- forehead 10 units/ $110; between eyebrows 20-30 units/ $220-330).
Juvederm / Restylane
What are fillers?
Fillers are gels made of substances found in natural skin including hyaluronic acid. These substances reduce in aging skin which leads to decrease hydration and volume loss including the "parentheses" lines around your mouth.
How will my doctor use them?
They will be injected under the skin to increase the volume almost immediately. This smoothes away the facial wrinkles and folds. Also, they can be used anywhere volume loss is evident including lips and cheeks.
How long will it last?
Fillers can last 6-12 months depending on the individual
Pricing:
As of 1/1/2016, subject to change
$550 per syringe
Dermatologist Formulated / Medical Strength / Clinically Tested